Going back to work after having a baby is hard enough without having to worry about what to wear. Unfortunately, dressing for work can be tough postpartum. Your body has changed, your old clothes may not fit yet, and if you're nursing, you need clothes that allow you to easily pump at work. I find I feel anxious about returning to work after maternity leave not to mention stressed about managing it all and emotional about leaving my babies, so I want to at least feel good and for me, that means wearing something that makes me feel my best. Rather than tearing through my closet trying to find something that fits, I like to invest in some postpartum work clothes that instantly make me feel chic and put-together.
When it comes to choosing postpartum work clothes, I look for dresses and separates that I can easily throw on, will be easy to pump in, and that fit me in the size and shape I am right now. I try to find pieces that don't cost a fortune as I know my body will continue to change in the coming months, but I also look for styles that are more forgiving so I can continue to wear them even as I lose the baby weight and breastfeeding boobs. With that said, I won't buy something that doesn't fit in a way that makes me feel good, so if that means going up a size, I will. Leaving my kids and getting out the door is hard enough without feeling bad that I can't squeeze into the clothes I just bought.
I have to admit the first week back at work was a total whirlwind this time. Getting out the door with two kids is much harder, especially while trying to get one ready for school and nursing one. Add a new commute to that and all the things to catch up on at work while also trying to pump as much as possible to keep my supply up and stay awake since Charlie decided not to sleep this week, and I barely survived. However, I was happy I invested in some cute postpartum clothes that I could just throw on in the mornings and at least look like I was human.
Here's what I wore to work on my first week back from maternity leave.
Monday
Dress (old Ganni but similar here); Boots
Tuesday
Dress (currently on sale!); Boots (old but similar here and here)
Wednesday
Skirt and Sweater set; Coat (old Zara but similar here); Boots (old but similar here and here)
Thursday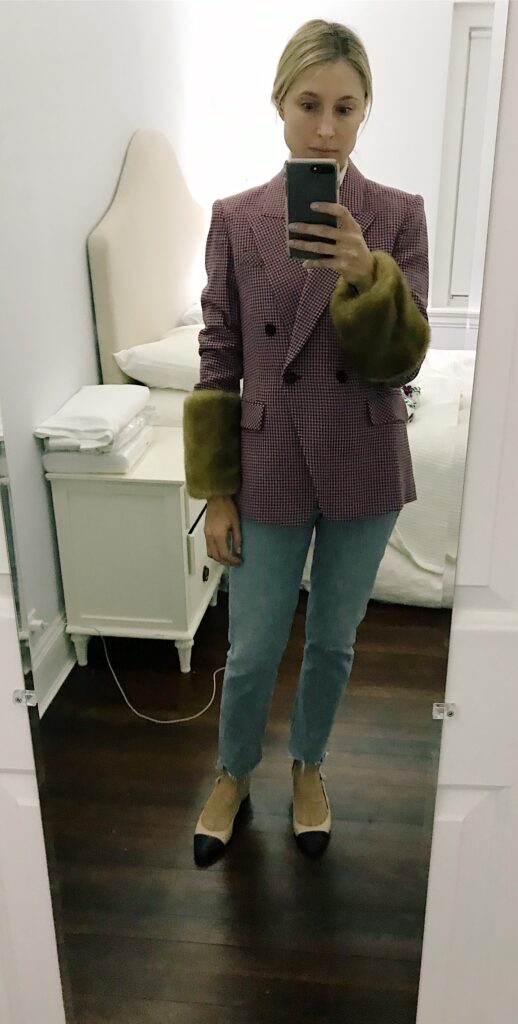 Jeans; Turtleneck; Jacket; Shoes
Friday
Dress; Boots (old but similar here and here)